Spending habits – You should care
The past few years have seen a dramatic rise in home buying and new home constructions, according to the National Association of Realtors. Homeowners Marketing offers your business to rip the benefit of the housing market boom (following the big crisis of 2007). We help businesses find new customers by targeting their marketing efforts and focusing on the cream of the crop of American Consumers – the New Homeowners.
One of the best predictors of consumers' "intent to buy" goods and services is a lifestyle change, such as a move to a new home. This is a time when people not only are likely to buy, but they must buy.
Businesses lose up to 17% of their business each year…
According to Sylvia Hamilton, director of new leads at a division of infoUSA: "When consumers move into a new home, they purchase everything under the sun. It is the best time to reach potential new customers". According to Ms. Hamilton, new homeowners spend at least $12,000 in the first 12 months in their new home. Their spending can reach multiples of that amount, depending on demographics, geographical area and the type of home.
Because roughly 17% of the population moves every year, local merchants and service providers lose 17% of their business a year, notes Dave Thornbury, COO, CPC Associates. To maintain and grow their businesses, they need to reach people who are new to the area and make new customers out of them.
New Homeowners vs. New Movers
New movers are essentially renters (in some lists renters are combined with homeowners, when they call them "movers"). It is important that you differentiate between the two. Not only are the demographics different, but a new homeowner will require products and services that would be of little value to a renter, let alone in many cases a new mover (renter) cannot purchase such products or services, as they are not a decision maker for that property.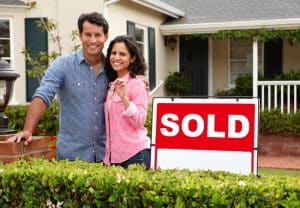 While new homeowners make up approximately 30% of the "greater new movers" market, they are more likely to establish roots in the community. Homeowners tend to be slightly older than renters, with a median age of about 40.
Approximately 68% of new homeowners have an average income of $40,000 or more, and 61% are college educated, according to the National Association of Realtors.
New homeowners also have great credit because they have been approved for a mortgage, in most cases, and if so, have gone through a stringent credit screening.
New Homeowners' Spending Habits
Numerous studies show that a new homeowner will spend more in the first six months of residency than an existing resident will in five to 10 years.
A home is an investment, and new homeowners have a huge appetite for new products and services such as landscaping, wallpaper, furniture, window treatments, appliances and electronics. What's more, the farther the move, the more changes are made: banks, dry cleaners, restaurants, doctors, pet services, family & entertainment services etc.
When you move, you often are not familiar with local retail locations. So, if a marketer reaches out, taps you on the shoulder and offers you a discount or a coupon, and follows it up with a good experience, you have a good chance at becoming a long-term customer.
Furthermore, because you are mailing in smaller quantities, as you are now focusing only on new homeowners in your area, instead of all residents, your mailing campaign runs a fraction of the cost of a "cover all" campaign, which means; you can afford to offer these potential customers something a little special.
In closing – not only your chances of making new customers increase, you can even spend less money getting there. In short – your ROI (return on investment) improves.
This is why Homeowners Marketing has been able to work with over 26,000 customers, many of whom have been with us for over 10 years. Because it works!
Direct Mail and New Homeowners
Direct Mail is the medium of choice when it comes to reaching new homeowners.
Because former addresses are not included on a deed file, mailers must resort to appending e-mail addresses to hotline files, which have insignificant match rates, thus making e-mail not a viable choice," he explains.
New homeowners have been known to be responsive to a variety of direct offers, including insurance and financial offers, credit cards, Internet service, and cable companies, to name a few.
We encourage companies mailing new homeowners lists (as well as new movers lists), especially retailers with multiple locations, to welcome prospects to the neighborhood and entice them to visit by offering a coupon or a discount offer.
If you want more customers and want to start finding them every week and increase your sales by only putting in 1-2 hours of work a week, contact us or call us and let us share with you what 26,000 customers already have experienced – the power of marketing to new homeowners.