This study proves that both Direct Mail and Email are alive and well, and that they work best together, albeit, using one of the two only, clearly Direct Mail outperforms Email.
Direct Mail in a Modern World
The second decade of the twenty first century has seen a major switch from Direct Mail to Email for Direct Marketing communications. However, we are now seeing diminishing returns from Email, and the pressures of legal constraints such as GDPR (The General Data Protection Regulation) are restricting Email Marketing even further. And while GDPR affects only the EU for now, there are active talks in Washington circles strongly supporting the US should follow suit, so this can soon be further exacerbating the cost and risks of effective Email Marketing
The Study Facts
First, a caveat: the research was conducted in the UK, where consumer habits and postal performance may differ. But the findings are in accord with common wisdom in the U.S. Or said simply – this side of the pond or the other – living in the modern world, US consumer will show similar patterns of behavior towards Direct Mail as will their British counterparts.
To conduct this study, the "media-neutral" agency created a campaign for an unnamed retail client with a product range appealing to a broad audience. It randomly targeted almost quarter of a million consumers.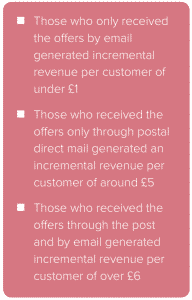 With all input factors (offers, creative, etc.) kept consistent, and with balanced target volumes selected at random, the Randomized Control Trial (RCT) showed that Direct Mail outperformed Email in terms of incremental revenue after campaign costs.
It has also shown that a combination of Direct Mail and Email can out-perform both medium when applied exclusively.
The Direct Mail Connection
Homeowners Marketing Services, has been compiling best of class Direct Mail Mailing Lists since the 1970s. It's unique ability to provide accurate data of New Homeowners, Movers, New Businesses and other demographics, has enabled both large and small businesses, to send affordable Direct Mail offers to New Homeowners, Movers etc.

The accurate and fresh data collecting methods used by Homeowners Marketing Services and developed to perfection over 4 decades have made their data best of its class in the nation and source of many known brands whom you all know, who use their data to perform effective, profitable and low cost Direct Mail campaigns.
According to Go Inspire's chief executive Patrick Headley, "Direct Mail costs more to transmit than Email; however Direct Mail has a lifespan of 17 days compared with Email's few seconds.
He the continues; "Click-through rates are 1.56% for Direct Marketing Emails, compared with an average response rates for Direct Mail of 4.4%" [according to Digital Doughnut, Direct Mail vs Email, 15 Feb 2017].
Direct mail is often perceived as a more personalized form of Direct Marketing, whilst email is seen to be very quick and informal.
At a first glance many would assume that Email is a great mechanism for boosting profits fast, but Direct Mail helps secure customers out of prospects much more efficiently, in the long term, results show.
The study was very careful in conducting the RCT with a retailer that has broad appeal across the population – young and old, wealthier and more modest means, gender-neutral, all geographies.
The resulting statistics from the trial will not be exactly replicated for each different retailer, but their relative positioning of the media being tested is likely to stand – most importantly that the best commercial results come from a judicious pairing of Email and Direct Mail.
Impact On Your Business Success
In closing, this study reinforces what we have learned to be true through our work with over 60,000 customers over our over 40 years in this business. Small or big, businesses will see greater success with Direct Mail than other channels overall. Partly to the low expectations most of us have of Direct Mail in the modern age.
We tend to think that only digital communications are "acceptable", but we tend to forget that Personalized Communications (as the case in Homeowners New Homeowners and Movers Mailing Lists) and well designed and thought out offers delivered via Direct Mail land in an inbox that's, as of late, not as busy as the digital inbox and phone notification queues of most consumers.
If you wish to obtain and read the original study, you may do so by downloading it from Go Inspire's Website directly.
If you have any questions regarding your business' goals; how you can get new customers every week by doing your own Direct Mail campaign – contact us.
We are here to answer any questions you might have. We are experts in Direct Mail and Mailing List. Having worked with businesses such as yours, we want you to benefit from our experience, whether you end up working with us or not.
You can also try our Mailing List for free and see how it works for you before you commit.
Ask Us Anything…
In short – we are here for you – don't hesitate to give us a call or contact us, and ask any questions that can help you get clarity about growing your business with the fastest most accurate Mailing List in the nation.