In the annual report Out of Reach, released by the National Low Income Housing Coalition, an alarm is raised about the high cost of renting in America in 2016.
In the report released Wednesday, the focus is the availability of affordable housing. By the coalition's definition, this is defined as housing and utilities that do not cost more than 30 percent of the renter's income.
"In no state, metropolitan area or county can a full-time worker earning the prevailing minimum wage afford a modest two-bedroom apartment," the report said. "In only 12 counties and one metropolitan area [all in West Virginia and Washington state] is the prevailing minimum wage sufficient to afford a modest one-bedroom apartment."
The National Low Income Housing Coalition, based in Washington, D.C., is a nonprofit research and advocacy group founded in 1974 by Cushing N. Dolbeare. According to their website, the organization "educates, organizes and advocates to ensure decent, affordable housing within healthy neighborhoods for everyone."
The benchmark used in the report to compare states, counties and cities is the "two-bedroom housing wage," the hourly wage required to afford a two-bedroom apartment priced at fair-market rent without exceeding 30 percent of the renter's income. The national average two-bedroom housing wage is $20.30, the report states.
The most "expensive" states according to the scale of comparison give rise to Hawaii as the most "non affordable"state.
However when diving from the macro down to county by county, California takes the infamous lead as an unsustainable place of residence for renters at these income levels.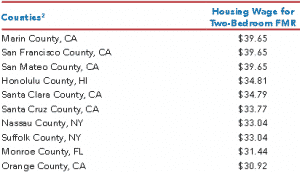 This speaks volumes to why, now more than ever, Homeowners are becoming the preferred target consumers for brands. As more and more consumers have to turn to financial leveraging to afford their lifestyle, homeowners usually have an asset to tap into via REFI, line of credit and other financial instruments.
New Homeowners make an even more sought after sub-group. As they are at the end of a thorough financial vetting process (especially these days), with an approved financial backing and most times cash position planned in advance to pay for whatever their move will require.
One can only hope economic climate will see next year's numbers improve rather than the trend seen from FY15 to this one, as per the report.
The entire report can be viewed and downloaded here.