Introduction
On October 16, 2013, new FCC regulations will go into effect that introduce the requirement of prior express written consent for certain types of commercial phone calls and text messages to consumers. Among other things, the new rules require that marketers have prior express written consent to autodial or send pre-recorded messages to cell phones. The rules, which put the burden of proof for compliance on the marketer/caller, come with penalties ($500.00 – $1,500.00 per call/text) and will open the door for numerous consumer class action lawsuits.
The new Telephone Consumer Protection Act (TCPA) rules will have broad implications for three reasons:
Many marketers that make outbound calls to consumers utilize call centers. These call centers typically use "autodialing" software to make the calling process more efficient.
A growing percentage of U.S. households exclusively rely on wireless phones. As of June 2012, 35.8% of U.S. households were wireless only
Consumers can bring private lawsuits or initiate class action lawsuits against marketers that violate the regulations. This combination of high numbers of autodialed calls, coupled with increasingly exclusive reliance on mobile phones and still penalties for non-compliance, make these changes significant.
Today, many companies collect, exchange and sell leads. Leads are often purchased by marketers on a cost per lead basis. Internet leads are leads that are generated by filling a form on a website or some other way providing their information via some sort of web inquiry. Companies that buy and sell Internet leads are part of the Online Lead Generation Industry, a $1.7 billion industry in 2012.
Rules and Steps for Compliance
Background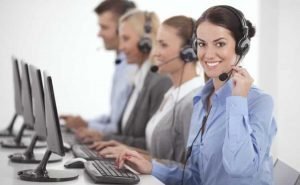 The TCPA was passed into law in 1991 and granted the Federal Communications Commission (FCC) the power to issue rules and regulations to govern the expanding telemarketing industry. Among other things, the TCPA allows individuals to file lawsuits and collect damages for receiving certain types of unsolicited telemarketing calls, text messages, faxes, pre-recorded calls and autodialed calls. The TCPA applies to both voice and short message service (SMS) text messages, if they are transmitted for telemarketing purposes – with limited exceptions (e.g., messages sent for emergency purposes). "Telemarketing" calls include those made by marketers that offer or market products/services to consumers. Purely informational calls and calls for non-commercial purposes are exempt from the TCPA amendments discussed below.
Autodialers
An autodialed call is a phone call, involving a live person or pre-recorded message, that is placed using an "autodialer," or automatic telephone dialing system, that has the capacity to produce, store and call telephone numbers using a random or sequential number generator. The autodialed call definition should be broadly construed in an effort to avoid unwanted litigation and regulatory action. For instance, if you are utilizing any type of call center software as part of your telemarketing operations, you may be using an autodialer within the FCC's definition. If you are unsure, we recommend that you consult with an attorney who has expertise in telemarketing law.
New TCPA Rules
In a Report and Order approved on February 15, 2012, the FCC adopted additional protections for consumers concerning unwanted autodialed calls/texts and/or pre-recorded messages. Two of these new rules are scheduled to go into effect very shortly. First, beginning October 16, 2013, prior express written consent will be required for all autodialed and/or pre-recorded calls/ texts sent/made to cell phones and pre-recorded calls made to residential landlines for marketing purposes. Compliance with the E-SIGN Act satisfies this requirement, meaning that electronic or digital forms of signature are acceptable (i.e., agreements obtained via email, website form, text message, telephone keypress or voice recording). Under the new rule, consumer consent must be unambiguous, meaning that the consumer must receive a "clear and conspicuous disclosure" that he/she will receive future calls that deliver autodialed and/or pre-recorded telemarketing messages on behalf of a specific marketer; that his/her consent is not a condition of purchase; and he/she must designate a phone number at which to be reached (which should not be pre-populated by the marketer in an online form). Limited exceptions apply to this requirement, such as calls/texts from the consumer's cellular carrier, debt collectors, informational notices and healthcare-related calls.
Penalties
The TCPA provides for either actual damages or statutory damages ranging from $500.00 to $1,500.00 per unsolicited call/message. In determining the final amount of statutory damages to award, courts analyze whether the defendant "willfully" or "knowingly" violated the TCPA. Considering that telemarketing campaigns often involve thousands to, in some cases, millions, of calls/text messages, potential damages under the TCPA may escalate very quickly.
Recent TCPA Cases
TCPA cases have been leading legal news with almost weekly multi-million dollar class-action settlements. By various accounts, TCPA filings are up 40-60% in 2013, when compared to the same period in 2012. For instance, Steve Madden, Ltd., an international shoe retailer, was accused of sending more than 200,000 text messages to consumers, but claimed that consumers had consented to receive the messages by providing their cell phone numbers while visiting Steve Madden's stores and website. The court found that clear and conspicuous consent had not been adequately proved and Steve Madden ultimately settled the case out of court for more than $10 million.
Conclusion
We advise all our customers that when it comes to telemarketing, when in doubt, go "old school":
Prepare, prepare, prepare.
Calling someone's residence, you're always interrupting something – have a concise script prepared in advance. Make sure that takes no longer than 15 sec to recite the first part which introduces you and what you do or offer. Read it to yourself and others so that you're sure you can recite it without speaking too fast, being perfectly understood and providing a clear sense of what it is you want to talk to them about. Remember, practice makes perfect.
Call them yourself.
A human voice on the other line greeting them is more likely to be met with an interested party.
When you're getting 50-100 numbers per week, it is totally doable to have someone call at designated times, 5 days a week and cover that load.
Respect people's privacy.
Residential leads are people like you with families and busy lives.
Call them during business hours or not later than 6PM. Leave a message (remember your 15 sec pitch? This is the one to leave with an enticing invitation to call you back, such as "our $50 offer will expire end of this week so please call Judy soon")
Maintain your list.
Make sure to cross off numbers (people) who have specifically asked you not to call again. Don't ever leave that to chance…
Treat people with the same respect you would like to be treated.
In general, new TCPA does not impact the telemarketing landscape for a small business interested in reaching out to a few homeowners each week. However, it's always helpful to study and be aware of the new rules, as they are usually reflect the major pains consumers go through for which the rules are constructed. Pay attention to those pains, be mindful of them and guaranteed you stand to be more successful at marketing to consumers, whether they're homeowners, movers or list of people who signed up to your website providing their personal information.Homeowners Marketing Services does not sell, exchange or share Internet Leads. We collect and compile our advanced database through public domain information collected from hundreds of counties across the nation. Finally, if you collect internet leads through your own website, in order to comply with TCPA regulations as they relate to Internet leads: 1. Add the proper disclosures to your web forms and obtain unambiguous consumer consent. 2. Capture and store a TrustedForm Certificate for each of your leads. 3. Verify in real-time that the proper disclosures were on your forms using the TrustedForm page scanning feature prior to calling.
If your business targets prospects by placing calls (either using your own sales people, or you, the business owner calling them yourself, or maybe by paying a call center to do the work, either way, we have the expertise and the fresh and accurate data that can help you achieve better results, lead to more sales and do so while not annoying people who do NOT wish to hear from you (which is what happens when you use data brokers who wish to provide lots of leads, and so they'll give you old, aging data that will lead to high rate of disconnected calls, or worst yet, people and businesses behind the numbers you got, that are no longer there, leading to confusion and people hanging up on you or worse yet, reporting abuse.
If you wish to discuss your goals in telemarketing with real experts, give us a call. You know our number, it's at the top of this page…
* This article is by no means a legal advice of any sort. Please do your own research and consult with a professional before launching your telemarketing campaigns. We do not encourage you to act based on this article. It is presented merely for sharing knowledge.