What Is Direct Mail Marketing
Direct Mail Marketing is a strategy used by marketers to engage prospects and customers' offline by sending printed mailers, dimensional packages, perishable items, corporate swag, or other physical items to them, which in turn has formed a valuable way to connect with prospects, leads, and clients in a meaningful way.
Why Is Direct Mail Making a Comeback
Direct mail marketing enjoys a Response Rate that is 30 times higher than the most powerful digital channel, email.
It also has the power to boost ROI by 20% as part of an integrated campaign.
The main argument for direct mail marketing has been that due to the explosion in digital marketing, so many people have found themselves almost overwhelmed with digital advertising messages such that there is the need for another approach of reaching out to the customers.
According to a study by Edison nearly 75% of consumers complain of being overwhelmed by email advertising, with over 25% resorting the usage of ad-blocking software to augment their digital experience, according to Statista.
New Customer Acquisition – Why Direct Mail?
Direct Mail campaign also taps into the positive psychology and anticipation of receiving a physical gift.
It is also memorable and accentuates the feeling of the human touch and connectivity with people like the reception of a handwritten note or personalized item which is much more valuable than just receiving an indistinct or standardized corporate gift.
For young people especially they can receive thousands of emails but very few Direct Mail pieces so the rationalization and feeling of human touch in these mails to these youngsters usually have a long-lasting impact.
Accenture Interactive for instance confirmed this in their research which shows that 75% of U.S. consumers like it when companies personalize messaging and offers to them which makes them feel more relevant.
What are Direct Mail's Unique Advantages?
Not many companies are engaging in Direct Mail Marketing campaigns these days which makes it a rarity, this causes it to gain prominence, stand out from the crowd as well as enjoy less competition.
Direct Mail offers limitless possibilities to the marketer to delight and entertain their customers and the recipients of these mails right from the sending platform or the approach adopted in sending the mail, the items delivered which can range from a variety of creatively-presented items: handwritten cards, innovative swag items, personalized gifts, sweets & treats, eGift cards, experience tickets, and more.
The flexibility of Direct Mail makes it such that different age groups can be targeted with different contents, designs, packaging, gifts.
The lifespan of Direct Mail is longer than that of an email or other digital marketing messages and channels.
The average lifespan of an email is just a few seconds, while direct mail's average lifespan is 17 days. Despite the fact that emails can be forwarded or shared they eventually go to just one person meanwhile Direct Mails go to a household.
According to Reports from RetailWire, 88% of key purchase decisions for Retail, Financial and Automotive categories are discussed at home, first.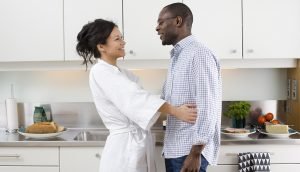 This gives Direct Mail an obvious advantage as it presents the recipients with a reason and an opportunity to talk over the offer or discuss it at home before an eventual decision to buy or not to buy.
Why Mailing List Is Key to Direct Mail Campaign
Another important factor to consider is the source of your data. While data companies can be invaluable assets, marketers must perform their due diligence when selecting the vendor that best suits their needs. In the search for a data provider, markets should beware of some of the common signs that a data company may not have their best interests in mind. Many data companies will not engage with marketers until the project surfaces. This way they know how much money the marketer is willing to spend and whether or not they are worth the effort. Others may outsource their services outside of the U.S. to multiple zones – convenient for the data company, but complicated and problematic for their clients.
Despite it being an expensive form of marketing, Direct Mail is proving its worth. Marketers can target people where they live more effectively using a Direct Marketing approach for an average ROI 23 percent higher than digital channels. To achieve that kind of success, having accurate information is paramount. A reliable data company will not only consistently furnish clean data, but they will go out of their way to guide the client through the process, ensuring that the client gleans the most benefit from the data provided.
Direct Mail will not work alone in a vacuum. The days of sending simple mailers and waiting for a phone call are long gone. If a marketer is willing to spend the kind of money to make their mailing campaign work, they must also be ready to perform all the needed follow up tasks and partner with a data company that will provide the quality data to do it right.
Why Our Mailing List Works So Well?
Homeowners Marketing offers a unique way for small businesses to discover the power of Direct Mail.
It allows you to freely explore this medium. Our solution is affordable and provides you daily or weekly the most up to date, verified information of leads in your area of business, based on your model of an ideal customer.
It's then your choice whether to test it using home-made flyers, letters or postcards, or as-you-wish high budget design, print and mail services. The choice is yours. We empower you with best in class data that guarantees you reach the right audience, at the right time, before your competitors.
Got questions? We got time. Call or email us.